There is no shortage of dreaming in the city built on water. You will feel the radiance of Venice from the moment you arrive. Whether you are taking a leisurely ride down the Grand Canal in our private boat or marveling over the shimmering blown glass in Murano, our local expert will provide all the guidance and history you need to truly soak in its magic. Admire the magnificent Venetian architecture and wander down narrow backstreets filled with personality of their own. Venice is truly a place to dream.Dine on fresh and inventive Venetian cuisine, or look out onto this delightful city from the Rialto Bridge and know that you are truly immersed in a treasure of Italy.
Annie helped me plan a fantastic trip to Venice. I am pretty fussy but Annie was always polite, ready to make thoughtful changes to the itinerary, and plan a very smooth vacation for me. She followed my guidelines and creatively set up every tour, transition, train ride and escort, exactly as I had hoped for. It was a flawless experience, and I am grateful to Annie for making it happen. This was my second tour with Annie and company and I would use her again and again. In addition to her expertise, she is a joy to work with and a great traveling guide!
Giovanni and Annie are the two best friends a girl could have on her first trip to Rome. I was SO lucky to have found them on Instagram and they were SO kind to take me on as a client just 48 hours before my first vacation in five years! I can't speak highly enough of their service — they showed me the best time of my entire holiday. From an amazing scooter tour to personalized eating, travel and shopping recommendations throughout my stay, they made me feel right at home in Rome. Don't hesitate for a second in hiring them – they are the consummate professionals, so delightful to spend time with, and worth every penny!
Annie and Giovanni are Italy pros. My husband and I backpacked Europe and Italy was by far the best stop because of these two. Rome and Venice became our favorite cities. From the 3 hour walking tour to the restaurant recommendations we will contact them every time we are in Italy. And Annie's fashion help while shopping… Amazing!!!
Enter into the dreamy world of Venice with these award winning films:
The Merchant of Venice (2004)
The Talented Mr Ripley
The Italian Job
Casanova (2005)
The Tourist
Casino Royale
Indy and the Last Crusade
Senso
Bread and Tulips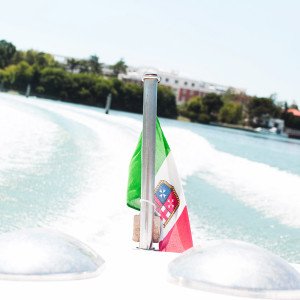 Personalized Italy is accented by a calming spectrum of blues. Annie has selected a different shade to represent each region based on personal memories and feelings evocative of that place. It is all too obvious what the inspiration is for the grande dame of Venice: the water that the city itself is built on! It flows through the hundreds of canals here and has a unique shade of blue that at times shimmers green, leaving us with an aquamarine tone to represent this dreamy city. Photographed by Carin Olsson, our dreamy photos of Venice perfectly capture its endless beauty.