You could easily fill your holiday admiring all of the landmarks and art in the Eternal City, but the remote areas outside the busy city offer some of the most spectacular scenery you will experience on your trip. We offer half and full day excurisions to regions that are close in distance to Rome, but a world away from bustling city life. Venture to North Lazio rich in history and wine tradition, for a stroll through the charming Umbrian town, Orvieto, or head southeast to Ciociaria, the embodiment of quintessential Italy. Just a brief train ride from Rome near the sea, are the well-preserved ancient ruins of Ostia Antica or take a day trip to the paradise of Sperlonga with its tranquil beach setting and excellent seafood. There is so much authentic Italy to be seen just outside the walls of Rome.
Our day in Tivoli will always hold a very special place in our hearts, it is a part outside of Rome that not many people experience.  Annie customized this very special day for us.  Our visit to Tivoli will always be one of our most extraordinary delights of our entire trip.
Although we had been to Rome several times we wanted to do more than the typical tours.  We found Annie and we're so thrilled that we did. She arranged for us a full day tour to North Lazio including Orvieto and the magical town of Civita di Bagnoreggio. Annie showed us many hidden gems, including a young shoemaker, several artisans and had one of our best meals at a fabulous little trattoria that we never would have found ourselves. Without Annie, we certainly would never have known that it existed. That day was one of the highlights of our trip. Annie's knowledge of her adopted country was amazing and she was a wonderful, fun and easy companion.  
Annie planned our entire Italy trip that we took for my mom's 60th birthday. The best part about Annie being our tour guide, is not only her knowledge about Italy and her recommendations to make sure we experienced it all, but also the fact that we felt like we were being "taken care of" in every aspect of our trip, even when Annie was not with physically with us outside of Rome. She was like our "Italian Mamma!" Thank you Annie, for the trip of a lifetime.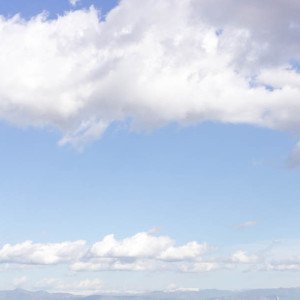 Personalized Italy is accented by a calming spectrum of blues. Annie has selected a different shade to represent each region based on personal memories and feelings evocative of that place. Ciociaria will always hold a special place in our hearts since this is the region where Giovanni's hometown of Fiuggi is located. The open space, nature and cleansing power of the water here is transformative. For Annie, she always feels like she is coming 'home' when she visits since it reminds her of Minnesota even though there are only a few lakes found here compared to thousands in her homestate. Our featured shade here represents the crisp blue sky of Ciociaria, an often nostalgic, but welcomed change from her new home of Rome.